Our range of JACUZZI
®

HOT TUBS
Get the ultimate spa experience at home with Jacuzzi® indoor and outdoor hot tubs.
Designed to improve your lifestyle with relaxation and a whole host of other wellbeing benefits, Jacuzzi® has spent over 60 years developing the best hot tubs on the market. Every Jacuzzi® hot tub is equipped with patented jet technology to deliver advanced hydrotherapy while you unwind.

There's a wide selection of sizes to choose from too, with seating capacity ranging from 2-3 people, 4-5, and 6 plus, so you're sure to fine the perfect hot tub for your home, whatever your needs.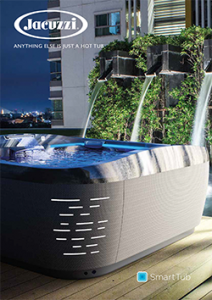 Download the Jacuzzi® Hot Tub brochure, showcasing all the features and benefits of the hot
tubs as well as information on the collections.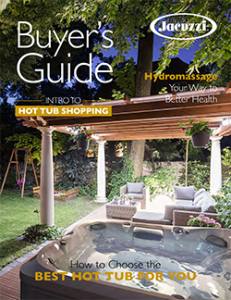 A hot tub is a long-term investment, so you will want to choose one that is best suited for your
home, your lifestyle, your physical needs and your budget.
Hydrotherapy is a well used water-based therapy.  The combination of heat, buoyancy and massage help to relax the body, reduce built-up muscle tension and ease sore joints, while improving circulation. By simply relaxing in a jet-driven hot tub, you can experience a world of difference both physically as well as emotionally.
By sitting in a hot tub for as little as 20minutes a day several times a week, you can experience..
Improved sleep patterns
Reduced stress levels
Eased muscle tension
Soothed joint pain
Improved circulation
Better complexion